Transcribe Your Recordings
Looking to transcribe your audio or video?
We provide expert subject transcribers + select add-on options!
Fast accurate transcriptions + choice of turnarounds by budget.
Audio, video or custom transcripts + various transcript formats.
Instant Quote! (see below). Type the minutes, upload files or send a request.
Confidentiality assured, as well as secure online protocols.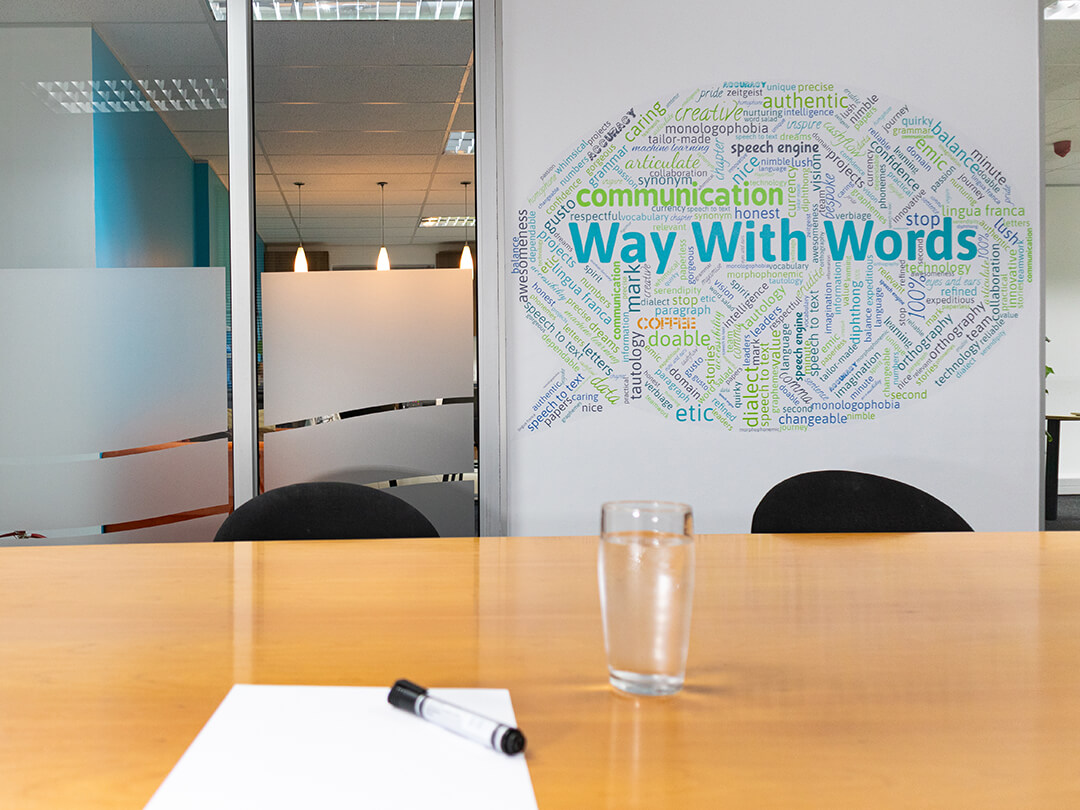 Way With Words' standard transcription service is calculated on a per audio or video minute rate. Pricing depends on the turnaround time chosen and the add-on options selected. The longer the turnaround and the fewer the add-ons selected, the lower the price. Use our calculator below to get started.
Transcription Price Calculator
Quote or Order
Your Transcription
Use our Transcription Calculator to get an instant quote or to place an order now.
How do I send you my files?
Audio and video files are uploaded via our secure online workflow system. We do not accept links or physical discs; all work is processed via our workflow system.
Once files have been processed, you will receive a notification with instructions on how to collect your transcripts.
How is the cost calculated?
Costs are calculated per recorded minute and are dependent on turnaround time selected. All seconds are rounded up to the next minute. For budget options, longer turnarounds are available.
Audio quality and number of speakers do not affect the cost. Default transcript is Standard Template and Intelligent Verbatim (see examples above). Time Coding, Full Verbatim and Special Formatting options incur a surcharge.
How long are quotes valid?
Quotes are valid for 30 days from date of quotation. Save your job as a draft should you wish to complete your order at a later stage.
Do you have an office in my area?
Our main operational offices are located in the United Kingdom and South Africa while we have points of presence in various territories globally. Please click here to get in touch with us.
How are deadlines calculated?
The 1-Day to 10-Day turnaround times are calculated in business days only, and do not include weekends. Express orders can be returned over weekends, with prior notification.
The Managing Director has also required a summary of the important points mentioned and you weren't able to take notes during the meeting because the projector gave in and you had to sort out the tea for everyone – so what to do? Maybe transcribing the audio yourself when you are already working a 10 hour day in order to make that deadline? With no experience of transcribing, you realise to transcribe the audio might actually be harder than expected. You had difficulty understanding the Marketing Executive from Wales and the HR Manager from France seemed to mumble somewhat. Fabio from the Creative Team in Italy also spoke slightly faster than expected and thought it would be okay to reference Italian terms and intermix them with English, so you weren't always understanding what the gist of his points was. The MD calls you a second time asking for the notes as he would like to forward them to the Sales Department and just can't understand why it is taking you so long to provide the notes as the meeting was only one hour-long. He ends the discussion by demanding that he would now like you to transcribe the entire audio and get it back to him by tomorrow afternoon (that way nothing will be missed, you see). A colleague then mentions that, to her knowledge, her former flatmate who used to transcribe on the side would take about an hour to transcribe 5 minutes alone!
As a proactive solution-oriented person and career go-getter, you realise that you need to find help in order to impress the boss and find it soon! A quick Google search for companies who are able to transcribe various accents (and who take the job seriously) delivers good results. A quick quote, the luxury of uploading the audio from your desk at work or your mobile and the knowledge that the transcription company will transcribe the file into a convenient Word format and email it to you as soon as completed (to the deadline that you selected) are absolute bonuses. A day later, the MD calls to thank you for the fantastic transcription and for your great organisation skills as the meeting 'went well'. Putting down the receiver your enthusiasm for your job returns and you realise that you can now look forward to that rerun of Bridget Jones tonight. Once again, all is well with the world.
Perfectly synched 99%+ accurate closed captions for broadcast-quality video.
Machine Transcription Polishing
For users of machine transcription that require polished machine transcripts.
For users that require machine learning language data.