Business Transcription Services
Meetings, boardrooms, interviews, annual general meetings, and more. For 
business transcription services
, 
Way With Words
 offers 
a range of turnarounds
 and 
special options
.
If you're interested in one speaker in a 

disciplinary hearing

, we will transcribe only that speaker. On the other hand, if you are hosting a business think tank and require a 

focus group meeting

 to be transcribed with all speakers clearly identified, we will transcribe that for you too. 
If you need regular timestamps so that you can mark exactly where in the proceedings someone said a critical phrase or made an allegation, we will happily provide these for you. If you have a particular format of transcription that you'd like to have us follow, we will happily do so, for a nominal fee.
Your Business Transcripts
Modern businesses generate a great deal of information. In some cases, this information can be compiled and stored in a non-verbal format. However, much of this information will require recording note-taking notes or by audio recording. If it's an audio recording then it may also require a transcript of the event.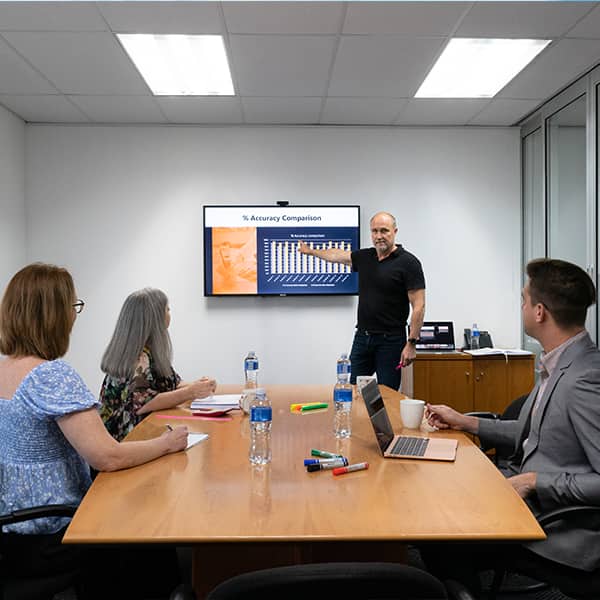 Way With Words' standard transcription service is calculated on a per audio or video minute rate. Pricing depends on the turnaround time chosen and the add-on options selected. The longer the turnaround and the fewer the add-ons selected, the lower the price. Use our calculator below to get started.
Transcription Price Calculator
Quote or Order
Your Transcription
Use our Transcription Calculator to get an instant quote or to place an order now.
How do I send you my files?
Audio and video files are uploaded via our secure online workflow system. We do not accept links or physical discs; all work is processed via our workflow system.
Once files have been processed, you will receive a notification with instructions on how to collect your transcripts.
How is the cost calculated?
Costs are calculated per recorded minute and are dependent on turnaround time selected. All seconds are rounded up to the next minute. For budget options, longer turnarounds are available.
Audio quality and number of speakers do not affect the cost. Default transcript is Standard Template and Intelligent Verbatim (see examples above). Time Coding, Full Verbatim and Special Formatting options incur a surcharge.
How long are quotes valid?
Quotes are valid for 30 days from date of quotation. Save your job as a draft should you wish to complete your order at a later stage.
Do you have an office in my area?
Our main operational offices are located in the United Kingdom and South Africa while we have points of presence in various territories globally. Please click here to get in touch with us.
How are deadlines calculated?
The 1-Day to 10-Day turnaround times are calculated in business days only, and do not include weekends. Express orders can be returned over weekends, with prior notification.
Examples of Business Transcription
Whether it's a conference call, management proceeding, marketing materials, stakeholder presentation, entrance and exit job interviews, AGMs, or even just the recording of a staff meeting,
business transcription services
are likely what you require. Typical uses include:
Business transcription services

 

for

 

stakeholder presentations. We have more than a decade of experience providing transcriptions for companies globally. Simply upload your audio or video, add a list of relevant speakers (keywords also help) and our dedicated transcribers will get to reproduce everything said into text.
Business transcription services

 

for

 

management minutes or proceedings. Society has progressed beyond the point where management minutes or proceedings can be recorded on a shorthand pad. A key decision about an outcome can hinge on a single phrase or minuted point. You will need a digital recording and you then find an experienced transcriber or transcription service. Again, a list of keywords and speakers would enable us to deliver a better transcript.
Business transcription services

 

for

 

monthly staff meetings, board meetings or annual AGMs. Taking minutes for a staff meeting can be tedious and require attention to detail. One very often runs the risk of missing something critical. Furthermore, there is always the risk that the person taking minutes cannot take a meaningful part in the meetings.
Let our business transcription services take care of this chore for you, with our dedicated transcribers.
5 Key Questions to ask when choosing an Audio Transcription Service
Our services are provided using a highly secure proprietary workflow system, select and assessed trainers recruited through our independent
 

jobs website
 and key technology partners.
Perfectly synched 99%+ accurate closed captions for broadcast-quality video.
Machine Transcription Polishing
For users of machine transcription that require polished machine transcripts.
For users that require machine learning language data.